Washing away some of the laundry blues
Hartdean, makers of the EcoKnit towel, have signed a sole agency agreement with Electrolux for Germany, Austria and Switzerland which will see the towels offered as a bundle with Electrolux's new energy efficient 5000 range machines.
Trials carried out by the machine manufacturer have shown users can make substantial savings when using the Electrolux Machines in conjunction with EcoKnit Energy efficient terry towels.
"The agreement between Electrolux and EcoKnit will start with Germany, Austria and Switzerland for now and may be run in the UK at a later stage. Negotiations are still in progress," said Paul Balladon, Director of Hartdean, who can trace his family connection with the textiles industry back four generations to 1928.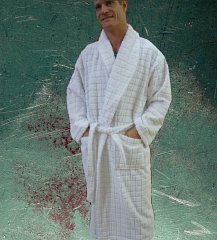 The secret to Hartdean's success is that their EcoKnit towels have a 40 per cent quicker drying time and use 15 percent less water in the washing. When combined with the resulting reduced carbon emissions it can mean substantial efficiencies for any size business.
The product has also been specially made to be snag resistant so the loops cannot come loose and the towel fall to pieces while at the same time maintaining a luxurious style. Some 80 percent of the overall weight of the towel is in the pile to give it a full deluxe feel and finish.
"We can reduce the weight of the towel to make further cost savings while still maintaining existing quality. In a traditional woven towel you would only have 50 percent of the overall weight in the pile" said Paul.
"Our 550gsm towel feels just as soft and luxurious as 650gsm towels used by some top hotels."
Hartdean Limited was established in 1997 and since then the company has been manufacturing and supplying EcoKnit towels to hotels, B&B's, nursing homes, beauty salons, hospitals, laundries, gyms and spas as far afield as Africa, Australia, Asia, New Zealand, USA, Canada, Europe and UK.
"We believe in looking after the environment and the importance of looking after what we have. If we don't than there will be nothing left for future generations to enjoy," said Paul.
"We have an Environmental Policy that we hope customers and suppliers alike will follow. With the policy in mind and the responsibility it carries, we at Hartdean have created the EcoKnit Towel.
"Reduced drying times and less energy consumed with each cycle means any business can now reduce their carbon footprint and become more Eco friendly. EcoKnit is the most energy efficient cotton terry towel in the world today."
Article Published by GT Life November - December 2014